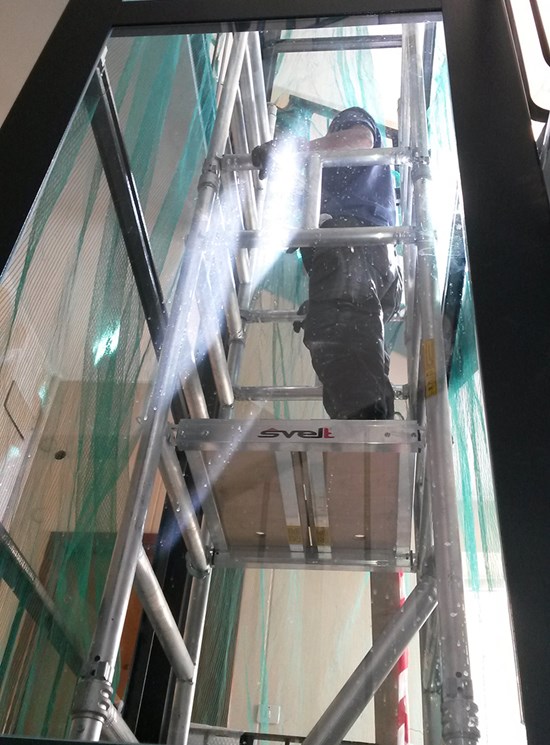 Scaffolding Tempo Tech L
m 2/2,5/3 x 1,35 - max hight m 13,00
Suitable for heavy duty
Scaffolding system with amazing access applications - Quick assembling system - Perfect for outdoor use
Tempo Tech is constructed by welding the rung directly to the frame.
It can be assembled very quickly as it is made of an extremely resistant lightweight aluminium alloy: rust cannot corrode this material which is long-lasting (guaranteed for 5 years).
It is safe and suitable for heavy duty use.
Tempo Tech is modular to allow the user to adapt the scaffold for almost any job.
On request, the base can be a pre-assembled one-piece package (Folding Base) for easy use, storage and transportation which can reach a working height of 4 m.
Tempo Tech L is available in three lengths, 2,0/2,5/3,0 m.
Frame profiles Ø 50 mm.

TECHNICAL FEATURES
4 braked castors Ø 150 mm (Tempo Tech L)
4 adjustable legs 400 mm
4 stabilisers
2 base horizontal braces
4 diagonal braces for each span with the corresponding frames (Tempo Tech L)
1 protection railing

Working platforms
Lightweight and extremely strong, it is made up of an aluminium frame and a wooden board which is non-skid and weatherproof painted.
There are 2 models, standard and with trapdoor with opening hook, and both have four toeboards to prevent tools falling during working.
A wind-lock clip fastens the platform to the structure.
All components can be repaired.

Stabilisers
4 strong stabilizers widen the base and are hooked into it through easy assembling clamps with washer.
There are two models standard (small, medium or large) or telescopic.
A non-skid knurled PVC foot grants grip to the ground. A label shows how to position the stabilizer.

Self-locking hooks
Aluminium self-locking hooks that snap automatically onto the rungs.
Its design grants more than 225° contact area for a perfectly steady tower.
The hooking edge is reinforced to make it shockproof.
The model and the length of the brace are printed on the hook for immediate identification.

Diagonal and horizontal braces
Braces of Ø 50 mm prevent the tower from bending or twisting.
Three models available: 2,0, 2,5 and 3,0 m depending on the tower length.
On each brace the model and the length are printed.
Diagonal braces can also be distin¬guished because they are knurled.

Blocking clamp
The blocking steel clamps fix each frame to the one below.

All components are marked with year of production and Svelt logo.
Accessories
Piano di calpestio con armatura in alluminio e piano in legno marino multistrato con fermapiedi, botola e gancio antivento. Il legno è verniciato e antisdrucciolo.
Base Automatica Optional: base premontata ad apertura/chiusura rapida. Ciò permette un comodo utilizzo immediato fino a m 4,00 di lavoro. Apertura e chiusura sono consentite da 2 cerniere in alluminio a bloccaggio rapido. Il piano di calpestio completa la struttura. I componenti standard del trabattello forniti insieme alla base automatica andranno montati solo per elevare Tempo Tech ad altezze superiori.
L'accesso ai piani può essere effettuato dalle spalle con gradini poiché hanno interasse di 30 cm e per normativa europea non c'è bisogno di utilizzare scalette interne. In ogni caso scalette interne a pioli sono fornite come optional su richiesta (per scale interne a gradini con inclinazione a 45° vedi anche TEMPO COMFORT
Tutti i componenti sono marchiati con anno di fabbricazione e logo Svelt come richiesto dalla norma europea.

I trabattelli Tempo Tech a norme europee UNIEN1004 (classe 3) completi di tutti gli accessori obbligatori, non hanno obbligatorietà di ancoraggio.

Per realizzazioni su misura per l'accesso in quota su macchinari o in situazioni complesse vedi capitolo Strutture Speciali.
A richiesta
Fermapiedi e Piani di calpestio completamente in alluminio (senza legno) adatti per applicazioni speciali.