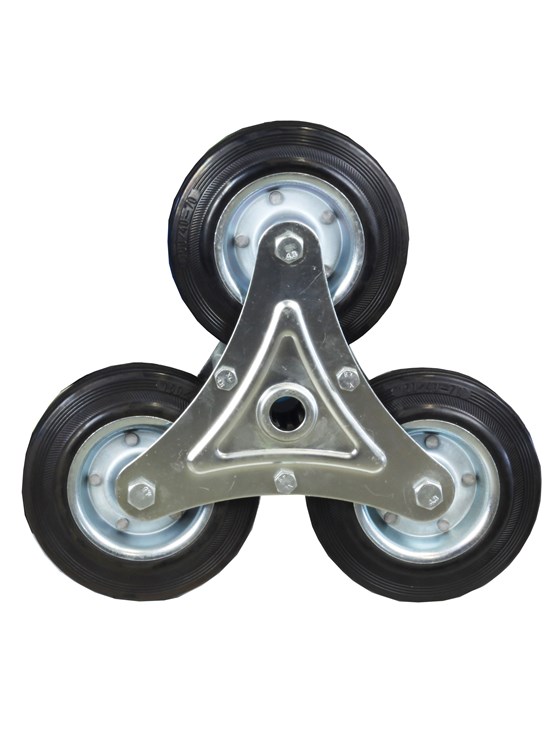 Superlift stair climber handtruck wheel
Suitable for heavy duty
6 Solid rubber wheels with iron hub, reinforced plates and roller bearings
Svelt professional stairclimber handtrucks are equipped with wheels 6 solid rubber wheels with iron hub and roller bearings as standard accessory.
The wheels can be purchased as spare parts and mounted on trolleys already on the market.

THREE 3 WHEELS STAR SUPPORT HUB IN IRON D.150X40

DESCRIPTION:
3 Nylon wheels with riveted core in stamped and galvanized sheet metal, solid black rubber ring with trapezoidal profile mounted on a star support in stamped and galvanized sheet metal with central hub with roller bearing.
Between the two plates there are 3 anti-flexion and anti-torsion reinforcement pins which increase the duration and resistance of the product.
TECHNICAL FEATURES:
RING HARDNESS: 82 + - 4 Shore A.
Wheel diameter 150 mm
Hub hole diameter 20 mm
Hub length 60 mm
Axle height from the ground to the center of the axle mm 126
Axle height from center of axle to upper wheel edge mm 179
Fork hole width and diameter mmxmm 10x52
ORIENTATIVE USE: Trolleys with manual translation for medium loads
THEY CONTACT WITH: greases, oils, hydrocarbons, chlorinated and aromatic solvents.
SUITABLE FOR THE FOLLOWING FLOORS:
1) tiles
2) asphalt
3) cement-resins
4) dirt road
5) grilled
6) with shavings

Weight 3.79 kg