18 March 2021
FOREST OF MEMORY
In memory of the victims of Covid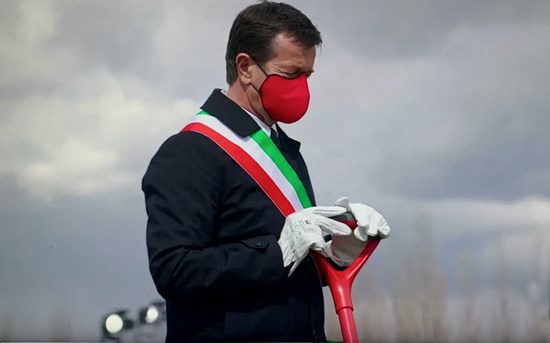 On March 18, on the Day for the victims of Covid, in the presence of the Prime Minister, Mario Draghi, 102 plants and shrubs were planted in the forest that will remind posterity of the victims of COVID.
The premier personally planted one, a lime tree, a gift from the Apulian municipality of Biccari, in the province of Foggia, which in this way wants to "go back to Italy" with a "green" and symbolic embrace.
The FOREST OF MEMORY is located in Bergamo in the Trucca park, on the side towards the hospital that has seen so many victims exhale their last breath.
In total 850 trees and shrubs will be planted, divided into 14 round rooms, of different diameters, each bordered by chestnut wood.
Up to now, over 88 thousand euros have been collected for the project against the 50 thousand expected, out of a total of over 200 thousand euros.
The plantings will end on March 18, 2022.
In total, the FOREST OF MEMORY will occupy an area of ​​approximately 6 thousand square meters.
For a few years, the Municipalities Association will take care of the management of the forest, organizing cultural and educational-environmental initiatives.
Seats will also be placed to give the opportunity to pause, meditate, remember.
It will be a place of silence and remembrance of ALL the victims of Covid, from Bergamo and elsewhere.
Svelt had the honor of being part of this initiative, to be always present and close to its community and to remember the patron Ing. Antonio Agosta who passed away from COVID on 21/3/2020.